Genieweg 1 Velsen Zuid 023 5371185 / 06 29275323


Information
Wednesday untill Sunday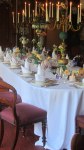 Country cooking
At Villa Zomerdijk, the emphasis is on Italian country style cooking. Huub Sleper puts together a menu with honest, unblended ingredients and pure flavors in mind. He collects the ingredients trough befriended gardeners with allotments. For the fish we rely on firma Tel, the meat originates from the Palmesteyn estate. The wines are carefully selected and brought in correspondence with the menu by Jacqueline and Piet Hein Turkenburg, Turkenburg Tradition Wijnkoopers BV from Bodegraven.
Chef Huub Sleper has developed his cookery by paying close attention to his grandmothers.
His grandmother on his fathers side, was a cook at Huis Zeeland on the Prinsengracht in Amsterdam. His mothers mother was a member of the English culinary family Caldwell.
For everyone, favourites of meat, fish and vegetarians of course, a visit to Villa Zomerdijk is a real culinary adventure!
More details about the food? Come in and enjoy our meals during the day and evening!