Genieweg 1 Velsen Zuid 023 5371185 / 06 29275323


Information
Bed and Breakfast
Our Bed & Breakfast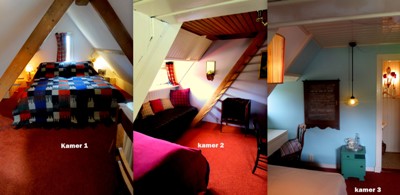 Apart from the restaurant, Villa Zomerdijk is also open for overnight stays in our bed & breakfast.
Our three rooms are equipped with comfortable beds, two are equipped with a washing stand next to the central, shared, well organized bathroom in the hall.
Rates for two persons per room
vary from € 70,00 to € 80,00
Breakfast is included in the price and one can also decide to enjoy a lunch or a dinner in the restaurant downstairs.
Please contact us for further information and reservations, by e-mail or telephone, as stated on the contact page of this website.